Newsjacking the Sh*t Show of 2020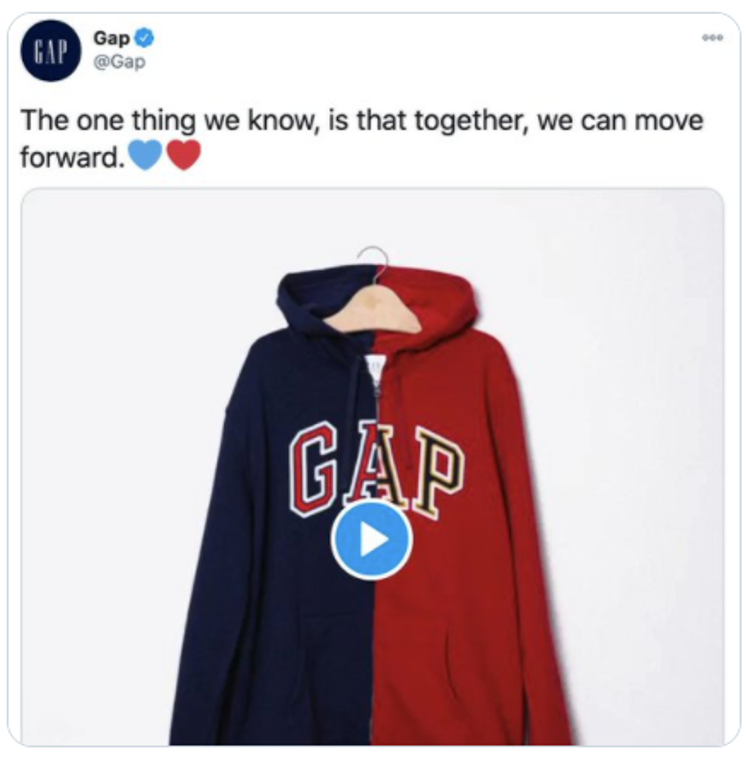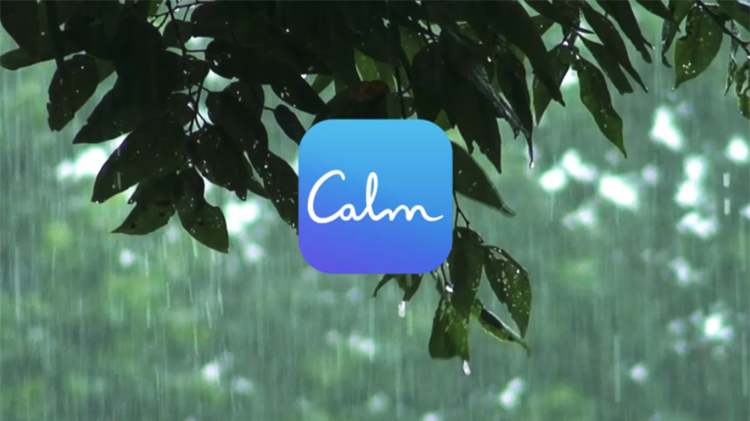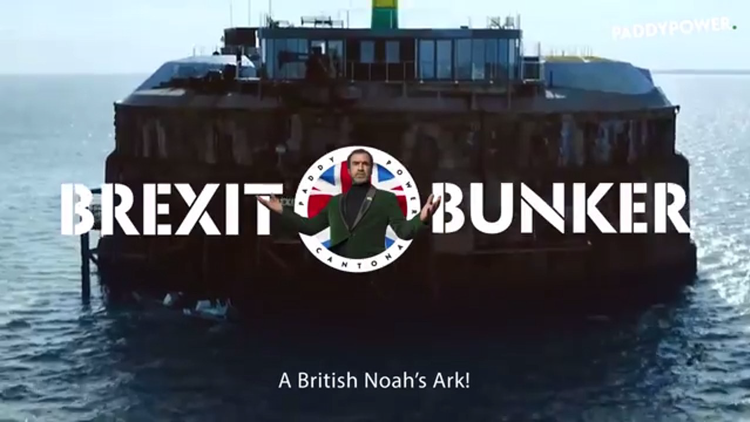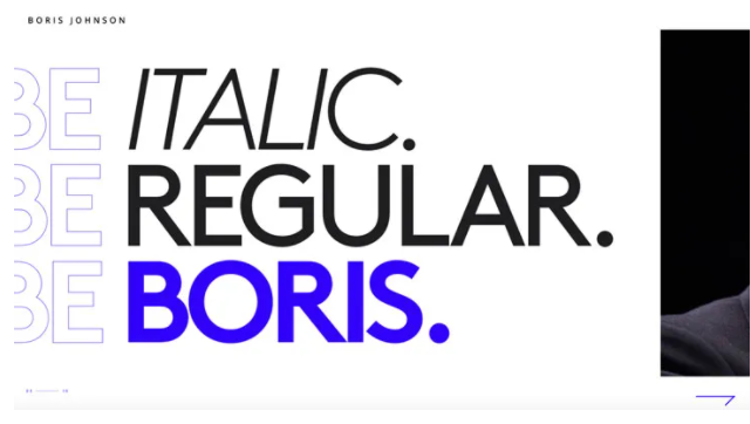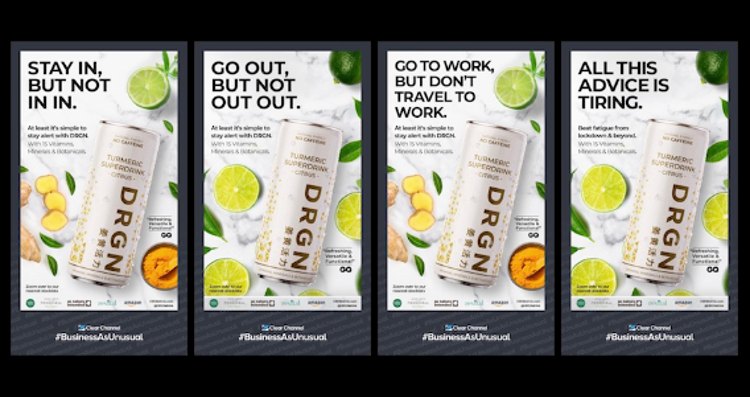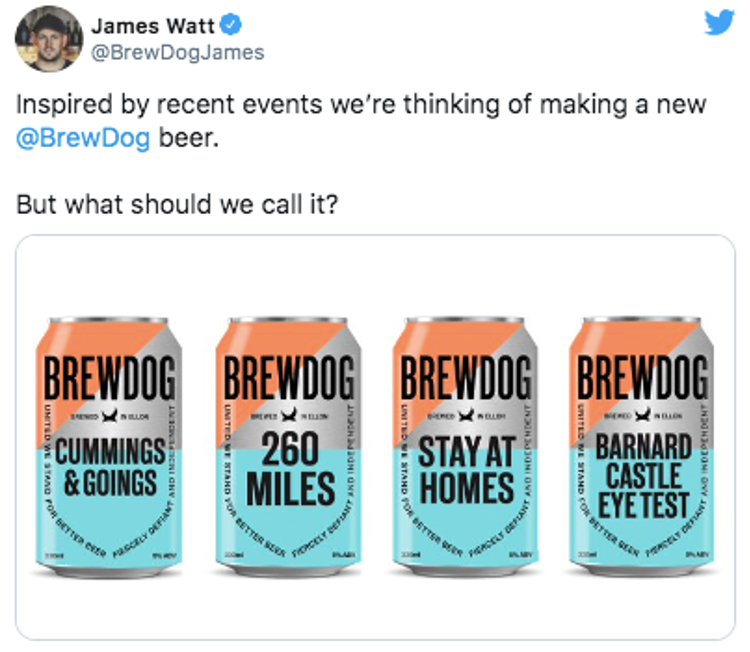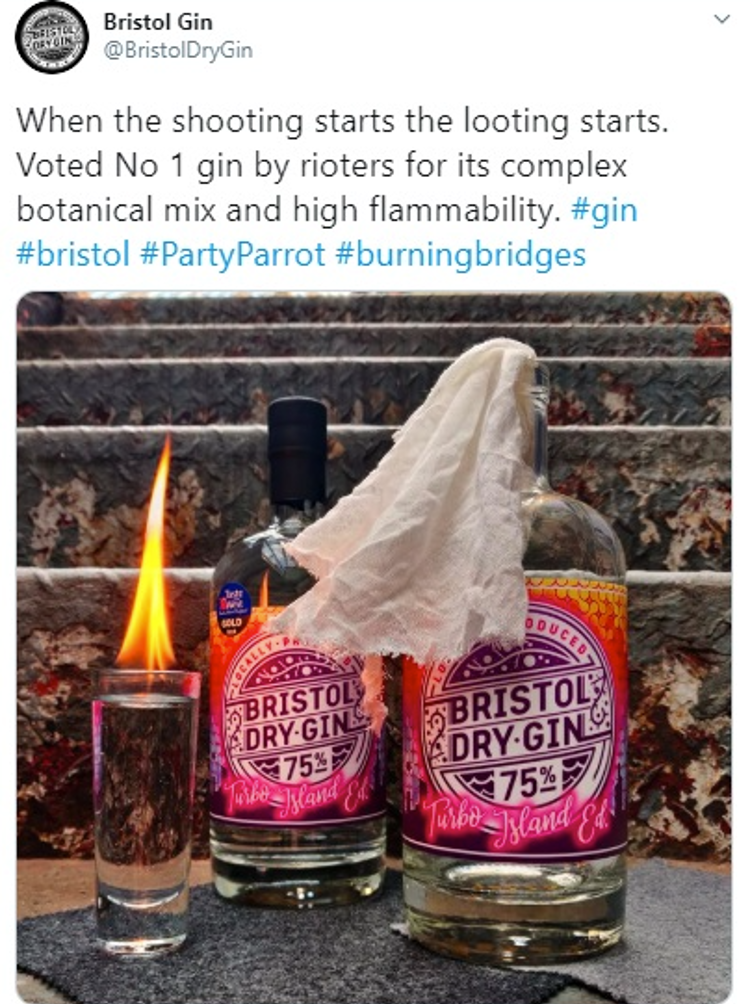 }
Newsjacking the Sh*t Show of 2020
With everything that's happened in recent months the media has been awash with attention grabbing headlines. From Brexit negotiations to the BLM riots, the chaos of the US elections and of course, Corona Virus.
It seems like everyone has an opinion, but do we expect to see brands take a stance? Should they risk alienating consumers by getting involved in what could be considered political campaigns? Or, in these unprecedented times, do we actually count on brands for leadership on societal matters?
Newsjacking can be an excellent way for advertisers to align themselves with a cause and gain exposure. But, as with everything on social media, once you jump on board, there's no going back. The question brands need to ask themselves is 'What could go wrong?'
Here's a look at some of wins and fails from brands attempting to newsjack the events of 2020.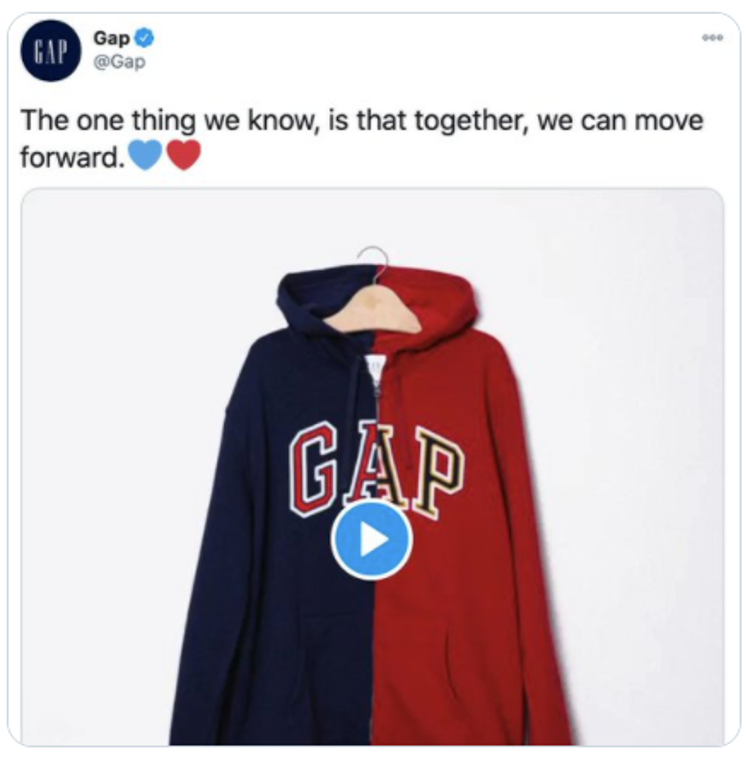 GAP – Bringing the Nation Together
It's not unusual for the US elections to attract global attention, but with Trump arguably one of the most polarising characters on the planet, the inevitable media circus of recent weeks has had the whole world watching and we've seen a spectrum of responses from brands on social media. Surprisingly though, some of the usual big hitters known for being outspoken on societal issues have stayed relatively quiet, and who could blame them?
We've seen the power of a nasty tweet from @realDonaldTrump put a dent in the profit margins of many brands over the years and in a country where over 70 million people voted for Trump in one of the most fiercely divided elections in history, it's easy to see why many companies took to social media on the less-controversial topic of encouraging people to vote, without explicitly taking sides.
However, blurring the line between the political and the commercial can be a risky business, even for brands who attempt to remain neutral, as Gap found out last week. The company faced public backlash in response to a tweet featuring a GIF of a hoodie, half blue and half red, being zipped up with the message, "The one thing we know, is that together, we can move forward."
The tweet was flooded with angry replies from followers calling out the company for drastically misreading the anxious feelings of people across the country and taking advantage of the political climate to sell goods. It wasn't helped by the clumsy photoshop effort that couldn't even 'unify' the two halves of the letter A.
The post was swiftly removed from twitter and followed by a statement from the company's corporate communications director apologising for misreading the mood of the nation - #FAIL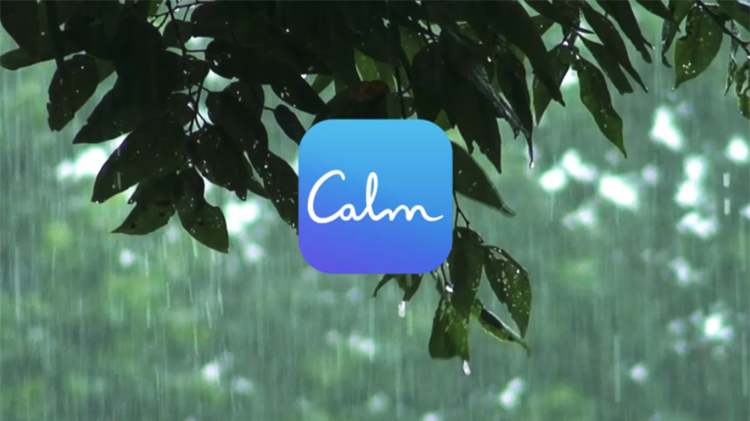 Calm – CNN Election Results Sponsorship
Whilst many brands were trying to keep their heads below the political radar by actively dialling down their marketing presence in the run up to the elections, some made the risky decision to tackle it head-on, with varying levels of success. One brand who managed to hit the nail on the head was popular meditation app, Calm.
In contrast to GAP, who clumsily attempted to shoehorn an election message into a retail focused post, Calm found a strategically relevant partnership that allowed it to demonstrate its offering in a relevant setting. By sponsoring CNN's coverage of the election results, the app reminded viewers of the need to relax during this stressful time by airing a 30-second spot of rain falling on leaves.
The sponsorship was a clever way of associating the brand with the anxiety that its meditations and relaxing sounds help to address. In addition to running ads on CNN, Calm launched a refreshed resource hub with free mindfulness tools, including Sleep Stories, meditations, music and other mindfulness content, ahead of the elections.
The activity was an excellent example of a company knowing the role their brand could play at a key moment in time and tying it back to their value proposition and was a big win for Calm, who saw downloads soar following the sponsorship activity. - #WIN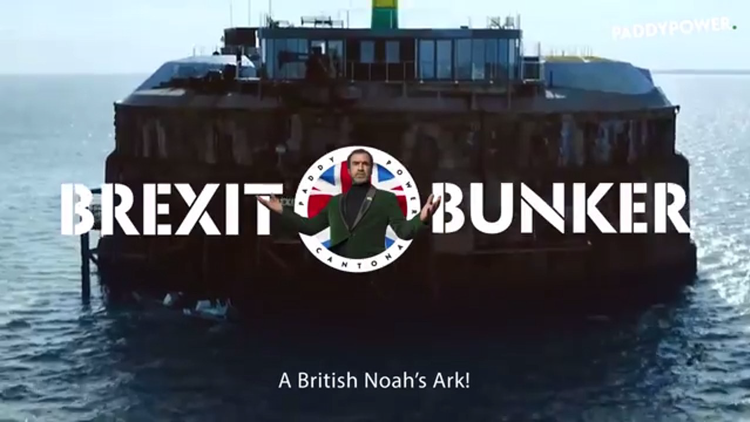 Paddy Power - Brexit Bunker
Despite the noise from stories competing for media attention lately, the future of the UK within the European Union is still a hot topic and we've seen a number of brands harness the public's interest in it with their own marketing activity, one of the most vocal of which has been PaddyPower.
The Irish bookmaker has never been a brand to shy away from a bit of controversy, and their response to the unfolding chaos of the Brexit trade negotiations was to produce a series of humorous videos with advice on how to cope with Brexit. As part of the campaign they also offered their followers a unique opportunity to escape it all by winning a stay at a Brexit escape bunker.
The satirical clips featuring ex-footballer Eric Cantona, certainly weren't afraid to pack any punches, with Cantona recreating Theresa May's infamous dance moves, mocking Leave politicians and giving a nod to the Black Mirror series by claiming the bunker will keep you "as happy as David Cameron with a pig". A risky move and definitely not the kind of content every brand could get away with, but perfect for the cheeky persona Paddy Power has cultivated over the years. - #WIN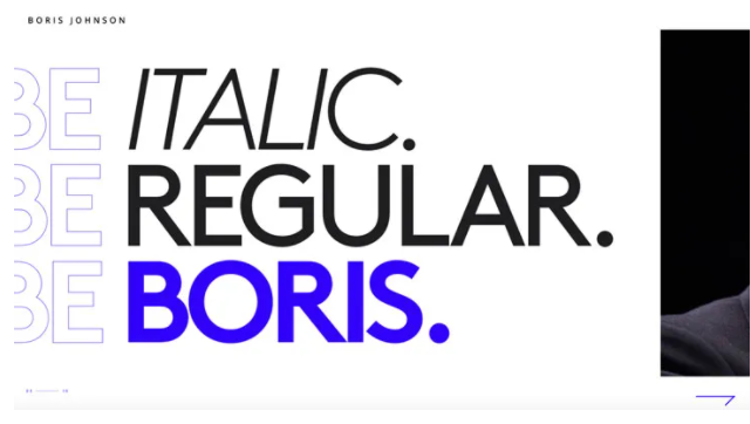 Huge London - Boris Johnson Brand Guidelines
You can't get away with talking about Brexit without a mention of Boris Johnson, a man who (much like Trump) lends himself perfectly to political satire. With the internet awash with 'BoJo' memes he's an easy target for newsjackers and Huge London hit the nail on the head with a humorous set of 'human brand guidelines' for the PM's campaign.
The spoof document not only outlined his personal values, art direction and colour palette but provided detailed instructions about his tone of voice, referencing some of his well-known public gaffs, with one section reading, "To appeal to the right, target the marginalised. Past examples include calling women in burkas 'letter boxes.'"
The guidelines come with the following disclaimer; "While this document intends to provide complete clarity, consistency and direction to his approach as leader of the United Kingdom, Boris Johnson will just make it up as he goes along." - #WIN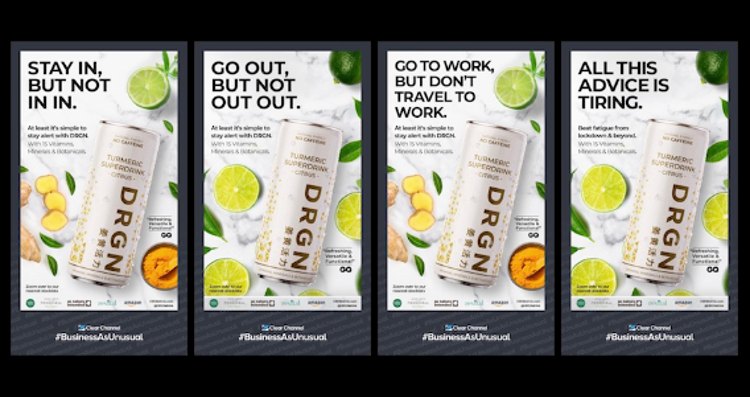 DRGN - Lockdown
Keeping with the theme of Boris Johnson, the PM's continuously changing guidance about lockdown over the past few months has unsurprisingly resulted in a flurry of memes as the public criticised his contradictory messaging.
UK Energy Drink DRGN, seized the opportunity to tap into the mood of the nation by creating a series of outdoor digital posters poking fun at Boris Johnson's confusing Quarantine Guidance. Using the tagline 'All this advice is tiering', the brand cleverly capitalised on the stories dominating the news by positioning itself as 'A tonic to the stressors of modern life' - #WIN.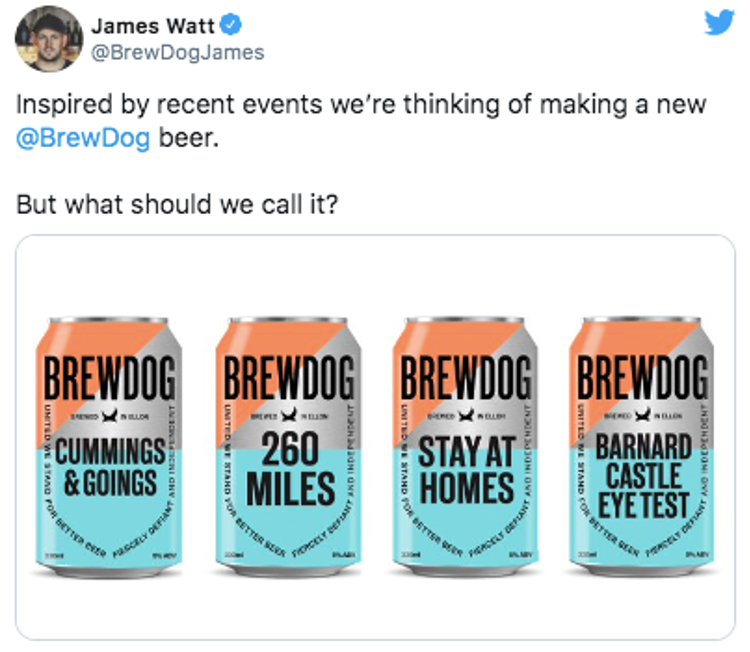 Brew Dog - Barnard Castle Eye Test
Another story gripping the media at the start of the Covid crisis was the lockdown-breaking exploits of the PM's Chief Advisor, Dominic Cummings.
While the incident stirred up public outrage over the Government's handling of the pandemic, British brewery Brew Dog, were quick to poke fun at the situation. The brand's founder James Watt posted on Twitter, telling his followers that BrewDog was making a new beer inspired by recent events, and asking them to vote on the name.
Following a social media frenzy the company launched a limited-edition beer, christening it 'Barnard Castle Eye Test IPA' described as the drink as a "short sighted beer for tall stories". - #WIN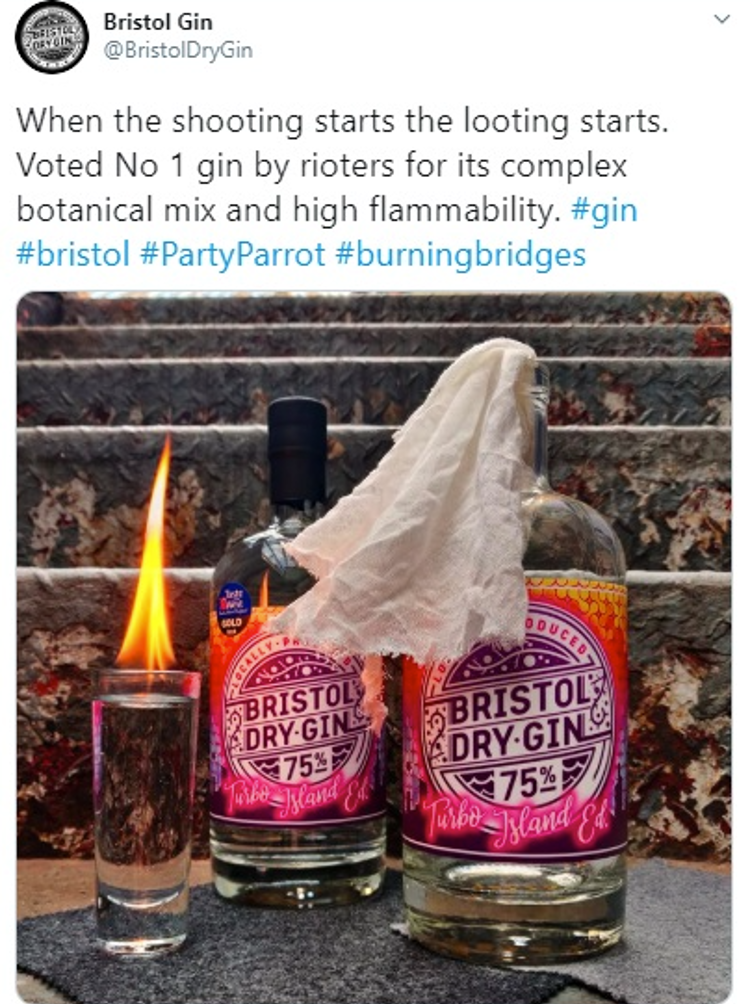 Bristol Gin – Looting and Shooting
We thought we'd end our rundown with what is almost certainly the worst newsjacking attempt we've seen this year. If you're looking for an example of what not to do, this is it!
Back in May, at the height of the violence that broke out across the US in response to the death of George Floyd, Bristol Dry Gin released a photo on social media of their Turbo Island gin featuring a rag stuffed in one of the bottles, reminiscent of a Molotov cocktail. The image was accompanied by the copy "When the shooting starts the looting starts. Voted No 1 gin by rioters for its complex botanical mix and high flammability."
The post was in reference Trump's infamous 'looting and shooting' tweet, which was censored by Twitter for glorifying violence. Unsurprisingly it was met with a barrage of complaints by people appalled by its lack of sensitivity. But to make matters worse, the brand attempted to make light of the situation by posting sarcastic replies to the people complaining.
Bristol Gin did eventually delete the post claiming it was 'just poking a little fun' at Trump. But after local retailers and café's started issuing statements that they would be removing the gin from sale the brand was forced to issue a swift apology, admitting it was "way out of line with a recent post which made light of the very serious situation, and follow up messages. We're really sorry, we clearly caused major offence." It added, "It doesn't change anything but we've today made a donation to Black Lives Matter, who have been very helpful." - #FAIL
So, what did we learn?
Newsjacking doesn't come without risks and not everybody will like what you have to say, but that doesn't mean you shouldn't shy away from trending topics
In the age of social media your followers expect you to have a voice. But make sure you do your research into how your campaign might be received, because once it's out there, there's no taking it back. Here's a few things to keep in mind…
Be quick. Most media trends have a short shelf life and if you don't ride the wave at exactly the right moment you risk looking like you're jumping on the bandwagon of old news.
Double check your content before it goes live, the more pairs of eyes you can get on it the better. Just because you think something is funny doesn't mean everyone else will get the joke.
Be relevant and select your topics carefully. If a story doesn't fit well with your brand, shoehorning it into your activity could be seen as a clumsy attempt to exploit the situation.
Be respectful. There's a fine line between cheeky humour and offensiveness. If there's been a national catastrophe and yourbrand doesn't show empathy you risk a backlash from followers accusing you of exploiting a situation to drive sales.
Have fun and be daring. If you hit the right note with your followers, you could reap big rewards.